About this course
A Powerful Solution to Give Your Students the 21st Century Skills They Need to Thrive
100% web based – can be used both in-person and remotely
Two engaging keyboarding curriculums for grades K-2 and 3-12
Digital Citizenship Curriculum aligned with ISTE standards
Learn to Type Code Modules
Spanish keyboarding curriculum
ADA compliance features, and more!
Adaptive Keyboarding Curriculum for 3-12
Works with all devices including PC, Mac, iPad and other tablets (with an external keyboard).
And Much More!
Intuitive Programming Makes Teaching Keyboarding Easier
Typing Agent designed by technology teachers who understand what you need to teach keyboarding and technology successfully
All the adjustable Intuitive settings you could ever want right at your fingertips
Insights into your student's progress at a glance with our Reports Dashboard
Curriculum automatically adapts to each student
Completely Plug and Play
Automatic grading and report cards
Set Typing Targets by class and/or student
Intuitive Admin Tools and Settings
Set up large numbers of schools, classes, teachers, and students with ease
All the settings and controls you need as a district admin
Multiple Admins per School District
Single Sign-On with Google, Microsoft, Clever and ClassLink
Rostering with Clever, Google Classroom and ClassLink
See utilization and performance at a glance with our Reports Dashboard
Run reports from district, school, classroom, or student level
Create custom reports using our Custom Reports Tool
Digital Citizenship Curriculum reporting
WCAG 2.0 ADA Compliant Features
Typing Agent is dedicated to making our program available to all students. Choose from accommodations for sight impaired students, hearing impaired students, dyslexic font, one handed typing, and more.
Engage Your K-2 Students with K2 Mountain
K-2 students climb K2 Mountain as they progress through their keyboarding lessons. Grab your ice picks and crampons and let's get ready to type!
Engage students with plenty of typing practice, fun lessons, and exciting games!
Teach mouse operation
Larger font for easy reading
Offline activities to reinforce skills
Adaptive 3-12 Keyboarding Curriculum
Spiraling curriculum meets ISTE and Common Core Standards
Automatically delivers keyboarding lessons at the individual student proficiency level
Completely plug and play
If you prefer a more "hands on" teaching experience, try our Custom curriculum option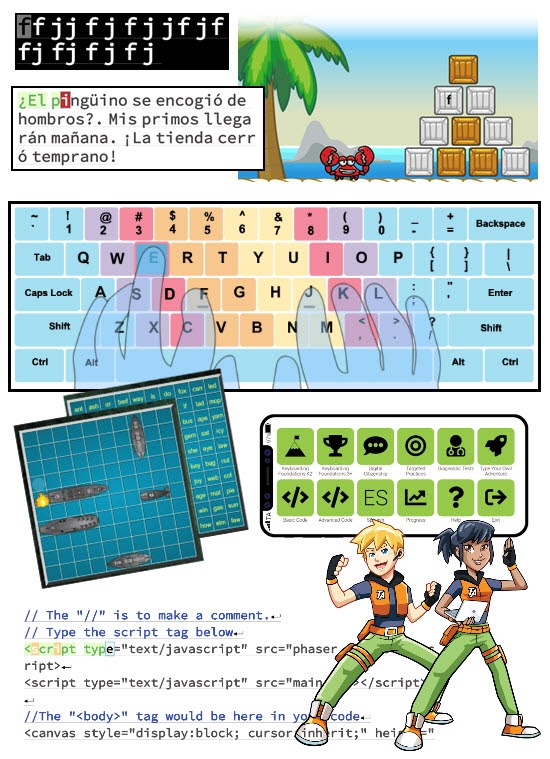 Keyboarding Videos Support Learning
Our engaging keyboarding videos introducing students to fun historical facts about keyboarding, reminds students about proper ergonomics, and coaches them with keyboarding tips and tricks along the way!
Digital Citizenship Curriculum
Give your students the skills they need to navigate the digital world successfully with our Digital Citizenship curriculum.
Aligned with ISTE standards
Complete with teacher guide covering the 9 sections of Digital Citizenship
Interactive student quiz for each section
Exciting superhero themed videos
Typing activities to reinforce Digital Citizenship concepts
Teach Students the Importance of Typing Code Accurately
Keyboarding and Coding are both about the art of accuracy! We make it easy to introduce your students to the art of typing code when they are learning to keyboard.
Introduce students to the concept of coding
Teach the importance of typing code accurately
Students build their own typing game
Students learn to type HTML, Java Script, Python and more
Challenge students with advanced type code
Familiarize your students with the Spanish language with our Spanish Keyboarding Curriculum or use our standard English keyboarding curriculum with Spanish instructions and navigation for your Spanish speaking students; we got you covered either way.
Exciting Keyboarding Games Including Multiplayer Games
Students can redeem their GritCoins from doing their lessons to have some well deserved game time to relax and reinforce their keyboarding skills. Our multiplayer keyboarding games are a huge hit!